When it comes to picking the right home for retirement, there are many luxury homes in the area that may be appealing. However, there is no place better for a retiree to enjoy their new freedom than a waterfront home. If you are nearing retirement and want the perfect waterfront home in Kirkland to spend your time enjoying your new-found freedom, then talk to our team at Bryan Loveless & Associates. We specialize in helping clients find their ideal waterfront property. As waterfront homeowners, we understand the appeal these unique properties offer.

If you are looking for the right place to spend your days of leisure, read on to find out why waterfront homes are the perfect place for retirement.
Keep An Active Lifestyle
As you get older, retaining an active lifestyle is increasingly important. The more engaged you stay with physical activities the better your body will age. Living on the waterfront makes staying active fun and easy.
You can take long walks along the waterfront or learn a water sport. Consider investing in kayaks or canoes to improve your upper body strength. With a location right on the waterfront, you cut out the need to drive somewhere with your boat to drop in. Simply store your boats at your property and enjoy the water at your own leisure.
There are also a variety of clubs you can join that cater to an active lifestyle. Perhaps you will join a sailing club or a waterfront yoga class. No matter how you choose to stay engaged, the water is a great inspiration for a healthy lifestyle.
Provide A Perfect Place For Entertaining Family And Friends
As you enter retirement, you have an increased amount of time for entertaining guests. You likely hope to host family and friends for holidays and festivities. What better place to host your next family gathering than on the water? When you opt for a waterfront property, you are choosing an ideal location for entertaining guests.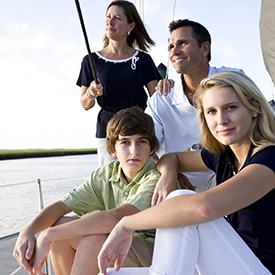 Invest in creating a beautiful outdoor living space that your friends and family can enjoy when they come to visit. With swimming, boating, fishing, and other waterfront activities easily accessed from your back door, your home will be a place your grandchildren make lasting memories and beg to return to year after year.
Not only can you host fun water activities at your new home, you will also have a beautiful backdrop for the holidays. Make your home the hub for Christmas. Set up your lights along the water and give your family a memorable view with the reflection of the twinkling Christmas lights along the water.
Connect With Nature Up Close
As you unwind from your busy life and enjoy the peace of retirement, there is no better time to connect with nature. From your waterfront property, you can enjoy peaceful activities, such as bird watching, fishing, and gardening. Being located on the waterfront allows you to appreciate nature up close.
Enjoy The Peace And Tranquility
While your plans for retirement might include a host of activities, travels, and social events, you are also invariably looking forward to some peace and quiet. Retiring on a waterfront property allows you to enjoy true tranquility from your own home. Spend your mornings watching the sunrise and sipping on a warm cup of coffee all from your dock. Listen to the water lapping against your property in the evenings as you unwind from the day.
You can even set up a small area for reading, meditation, and yoga along the waterfront to act as your sacred space of peace. As you spend your days living by the tranquility of the water, you will find your stress levels lower and your health improves. In fact, according to a recent study, living along the water significantly lowers levels of psychological distress and leads to better mental health.
Talk To Bryan Loveless & Associates About A Waterfront Home
If you are on the hunt for waterfront real estate so you can enjoy the variety of benefits these properties offer to retirees, talk to our team today. We can provide you with access to the best waterfront property listings in the area and we can set you up with tours of the properties that best meet your needs. Retire on a waterfront home in Kirkland and enjoy the beauty and peace of waterfront living.